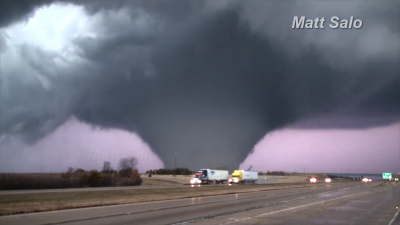 2019 Streaming Rewards
Wed, 02/01/2017 - 02:16
Kory.Hartman

We are happy to announce that our streaming rewards program returns for 2019!


You have a chance to receive a monetary reward on severe risk days just for streaming live! Reward recipients will get to put a few dollars toward their chase expenses.


To be eligible, all you have to do is have a paid SevereStreaming account of Double Cheeseburger or higher and stream with us during April, May or June. In one day of chasing, you could make back your account fee!


Here are the payouts based on Storm Prediction Center (SPC) overall Severe Weather Risk level as of 3pm CDT (20z) update:


"Enhanced" Risk Days
1st Place: $25


"Moderate" Risk Days
1st Place: $50
2nd Place: $25


"High" Risk Days
1st Place: $100
2nd Place: $50
3rd Place: $25


It takes us time after an event to gather the statistics and verify the reward recipients. Payments will be made through PayPal.


Top Streamers and updates will be posted on the SevereStreaming Members Facebook Group. You may leave comments and questions there. If you are a SevereStreaming member and you aren't a member of the Facebook group, please email us.


Have fun, stay safe, and keep streaming!






Official Rules
This is a rewards program, not a contest. Purchase and membership required.
Term:
The SevereStreaming Rewards Program begins April 1, 2019 at 12:01am and ends June 30, 2017 at 11:59pm.
Who may participate:
Storm chasers 18 years or older that have a paid membership and stream live video through SevereStreaming LLC, except for employees, sponsors, and partners.
How to Enter:
Stream live video through SevereStreaming LLC between April 1, 2019 and June 30, 2019.
SevereStreaming LLC reserves the right to disqualify any participant for any reason and/or to cancel, terminate, modify, or suspend the Program at any time.
Judging:
Places will be judged by viewer statistics based on Google Analytics and CDN video tracking. All decisions of SevereStreaming LLC management are final.
In the event that a selected Top Streamer is determined ineligible, cannot be contacted or does not respond within ten (10) days to a notification in the SevereStreaming Members Facebook Group, or refuses the prize, the prize will be forfeited and SevereStreaming LLC, in its sole discretion, may choose whether to award the prize to another participant.
Safety is paramount in this program and any chaser exhibiting dangerous, illegal, or reckless behavior on their live stream, whether in attempt to increase viewership or not, will immediately be disqualified and be at risk for having their SevereStreaming account terminated.
Program void where prohibited. By streaming, and potentially placing in the Top Streamers on a particular day, participants agree to release, discharge, and hold harmless SevereStreaming LLC and its partners, affiliates, subsidiaries, advertising agencies, agents and their employees, officers, directors, and representatives from any claims, losses, and damages arising out of their participation in this Program or any Program-related activities and the acceptance and use, misuse, or possession of any prize awarded hereunder.